Does your home need an energy boost? Forget the caffeine! There are some good programs for Illinois residents who are serious about lowering their utility bills and making their homes more comfortable.
Energy Impact Illinois will pay the first year's interest on the following home improvements:
Attic Insulation and Air Sealing
Additional Insulation Recommended by Energy Assessment
Duct sealing
Buying and Installing a High-efficiency Furnace, Boiler, Central AC, Water Heater
Steam Balancing (Vents, Traps and Valves)
Boiler Controls
Programmable Thermostats
Lighting
ENERGY STAR Appliances
ENERGY STAR Windows
Some Roof Replacement, Radon Mitigation, Mold Treatment, etc.
In the Chicago area, some banks offer loans from $1,000-10,000 towards the above projects.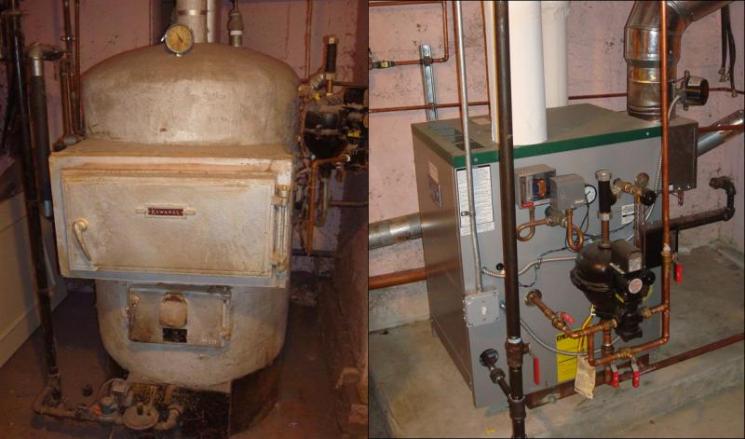 SOURCE: http://energy.gov/energysaver/articles/furnaces-and-boiler
Illinois has an incentive for making funds available for these improvements. According to new DOE regulations, residential furnaces must be at least 90% AFUE by May 1, 2013, in the 'northern region' -- a cluster of states which includes Illinois. (AFUE, pronounced 'a-few', refers to Annual Fuel Utilization Efficiency.)
AFUE is the annual heat output of a boiler or a furnace compared with the fossil fuel energy used to fuel that furnace or boiler, according to the Department of Energy.
An AFUE of 90% means that 90% of the energy used to fuel the heat source actually heats the house, rather than escaping up the chimney or being burned off elsewhere.
AFUE doesn't include heat loss through leaky ductwork, which is a problem we address here:
Duct Cleaning
Rockford city residents are eligible for up to 80% off installation of air sealing and insulation; up to 50% off furnaces, boilers and water heaters; and 30% off energy star appliances. http://energyimpactillinois.org/news/rockford-rebate/
The process starts with a home energy assessment-- a $400 service that's being offered for $99 by Energy Impact Illinois.
In the Chicago area, some utilities are offering $1,750 in instant rebates on energy-efficiency improvements. The same utilities are giving away free compact fluorescent lightbulbs.
For more information about these programs, contact Energy Impact Illinois, an alliance of governments, nonprofits and utility companies.